Global Indigenous Management aims to create leaders in the fashion and entertainment industry and supports Indigenous entrepreneurship.  Our goal is to increase the representation of Indigenous fashion and build the capacity of Indigenous people in the fashion and entertainment industry. Global Indigenous Management has a strong social agenda and commitment to Corporate Social Responsibility and investing in social change.
Our core investment program the Indigenous Runway Project formally known as Indigenous Fashion Unearthed, has a strong focus on aspirational career pathways for Indigenous young people in the fashion industry and became an international phenomenon overnight.
Nominated for Australia's National Reconciliation Award in 2014 – 2016 and Best Practice as part of the Victorian GarrinGarrin Aboriginal Education Strategy (2015).
The Indigenous Runway Project is connected to four premium events a year; where aspiring Indigenous young people gain industry training, hands on experience and the opportunity to work with an experienced industry mentor.
The premium events symbolise a blended tapestry of Indigenous talent, skill and beauty.
The Indigenous Runway Project continues to provide a mentoring model that responds to community needs and develops leadership capacity and structured support while helping Indigenous young people define their own careers in the fashion industry.
This empowering program has reached communities in Australia, New Zealand, USA, Canada and Africa.  Since 2012 we have received over 5000 expressions of interest to participate in the program. To date we have only met a quarter of this demand, become a sponsor today and help us reach more Indigenous young people.
Please click on the donation button to sponsor an Indigenous young person or donate towards the program.
Our program makes a difference, help us support Indigenous youth globally.
Our Program
The Indigenous Runway Project program is not funded and welcome any support given to continue our success to empower Indigenous youth and creatives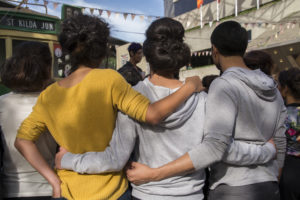 Let US HELP YOU with the youth of today in building their confidence and developing strong leaders.
We have developed a scaled down version of the program so that community groups and organisations may benefit.
We will work with your organisation to tailor a program that suits your consumer and client needs while achieving great outcomes.
If you would like to know more about our program